Donald Trump has lashed out at the federal investigation into Russian election meddling, after court filings produced the most direct evidence yet linking him to criminal conduct.
The president reacted after bombshell sentencing memos submitted by special counsel Robert Mueller and the southern district of New York prompted some Democrats in Congress to openly countenance impeachment proceedings.
Early on Saturday morning, writing in capital letters, Trump tweeted: "AFTER TWO YEARS AND MILLIONS OF PAGES OF DOCUMENTS (and a cost of over $30,000,000), NO COLLUSION!"
In fact the Mueller investigation began less than two years ago, in May 2017, and the Politifact website estimates it has cost around $27m.
He later tweeted that it was "Time for the Witch Hunt to END!" Leaving the White House for the army v navy football game in Philadelphia, he said: "On the Mueller situation, we're very happy with what we are reading because there was no collusion whatsoever. The last thing I want is help from Russia on a campaign. You should ask Hillary Clinton about Russia."
The investigation was a "very one-sided situation", he said, "but I think it's all turning around very nicely."The president is in legal peril. In court filings on Friday, prosecutors connected him to a crime involving hush-money payments to women who claim to have had affairs with him; revealed that contacts with Russia began earlier in his campaign than previously thought; and unravelled webs of lies spun by former lawyer Michael Cohen and former campaign chair Paul Manafort.
Matthew Miller, a former justice department spokesman, summed it up on Twitter: "The president and his lawyer violated campaign finance laws to influence the outcome of the election while his campaign chair was meeting with an intelligence asset of a foreign government that was trying to influence the outcome of the election. Not very legal and very cool."
One of the most damaging revelations was not related to Russia but rather a sex scandal. Cohen bought the silence of pornographic film actor and director Stormy Daniels and former Playboy model Karen McDougal, both of whom allege affairs with Trump, which the White House denies. Daniels was paid $130,000 as part of a nondisclosure agreement signed days before the 2016 election.
Campaign finance law requires candidates to report any payments made to influence the election. The Trump campaign failed to do so. Prosecutors in New York, where Cohen pleaded guilty in August to campaign finance crimes, said the lawyer "acted in coordination and at the direction" of Trump. Although Cohen had implicated him, it was the first time prosecutors linked Trump to the crime.
Prosecutors demanded "substantial" prison time of four to five years for Cohen, for the campaign finance violations as well as bank fraud.
In a separate filing, Mueller detailed how in around November 2015, five months after Trump launched his bid for the presidency and well before previously reported contacts, Cohen spoke to a purported "trusted person" in Russia who offered the campaign "political synergy" and "synergy on a government level".
Cohen said the unidentified person "repeatedly proposed" a meeting between Trump and Russian president Vladimir Putin, claiming it could have a "phenomenal" impact "not only in political but in a business dimension as well". The filing added: "Cohen, however, did not follow up on this invitation."
Cohen last week pleaded guilty to lying to Congress in connection with a Moscow property deal, which was being pursued one month before Trump officially became the Republican nominee. Mueller noted that Cohen had made "substantial and significant efforts to remediate his misconduct, accept responsibility for his actions, and assist" the investigation and therefore declined to recommend additional prison time.
Cohen is one of several Trump associates to have seemingly been open to receiving Russian help during the election. Former national security adviser Michael Flynn provided so much information to prosecutors that Mueller said he should not serve prison time. Even the president's son, Donald Trump Jr, accepted a June 2016 meeting with a Russian lawyer based on a promise of "dirt" on rival Hillary Clinton.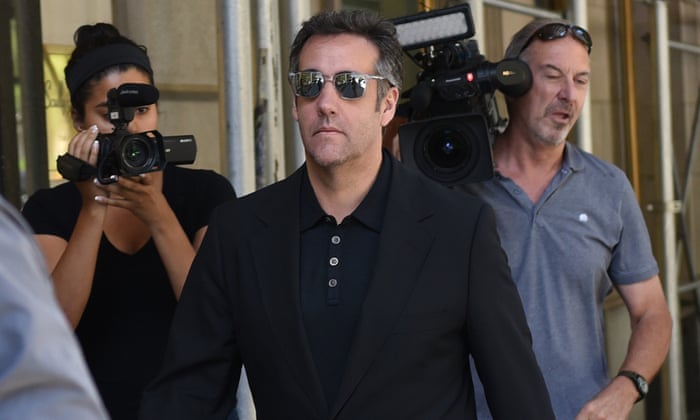 Mueller also detailed multiple "lies" that Manafort told investigators, leading to a termination of his deal and the likelihood of a stiff sentence. A heavily redacted filing said Manafort told untruths about his dealings with Konstantin Kilimnik, an associate whom US officials suspect is a Russian intelligence operative, and about his contacts with Trump administration officials after striking a plea agreement.
Democrats have played down talk of impeaching Trump, partly because of fears it will rally his base. But the latest filings put the issue back in the ether