Roger Federer, who was the oldest player left in the men's draw at 37, gave his blessing to the youngest, 20-year-old Stefanos Tsitsipas, after the Greek prodigy beat him to reach his first quarter-final of a slam and declared himself, "the happiest man on earth"The eminent loser – a six-time Australian champion reaching for his third here in a row – was happy for him too, although he later riled at John McEnroe's on-court suggestion that Tsitsipas's 6-7 (11), 7-6 (3), 7-5, 7-6 (5) win in three hours and 45 minutes represented a changing of the guard.Yeah, sure," Federer said, mustering as much disdain as he regarded as reasonable. "He's in front of the mic a lot. He's always going to say stuff. I love John. I've heard that story the last 10 years. From that standpoint, nothing new there."
On a more upbeat note, Federer said of Tsitsipas, "He's done a really nice job, the last year and a half — before that, too. Beating Novak [Djokovic] in Toronto, the likes of [Kevin] Anderson and [Alexander] Zverev, now me here: that's what you need to do to get to the next level. He's doing that. I see him definitely being high up in the game for a long time. That was a good night for him tonight."
Tsitsipas, a deep thinker maybe not quite in the class of Socrates, agreed. He has always said this is where he belongs, on the big stage. With a single-handed backhand, hot serve, sublime volleying skills and rock-solid self-belief, he slowly deconstructed the game of his mirror image across the net, and becomes the first Greek to reach the quarter-finals of a slam. On Tuesday he will play Roberto Bautista Agut, who beat Andy Murray here on Monday in what might have been the Scot's last match, and outlasted the 2018 finalist Marin Cilic 6-7 (6), 6-3, 6-2, 4-6, 6-4 on Sunday.
Tsitsipas felt very much at home in front of a supportive audience in the city where more Greek is spoken than in any city outside Greece. There have even been suggestions he could emigrate – as Federer's father contemplated when the family lived here briefly during the Swiss's teenage years.
"Nothing I can compare it to," Tsitsipas said courtside, "I'm the happiest man on earth right now. I cannot describe it. I truly believed I was going to win, from the very beginning. It's important to keep that mindset, to believe in yourself."
He said of Federer, "I have so much respect for him. He showed such good tennis over the years. It was a dream come true for me just being on Rod Laver facing him."
Tsitsipas, who was fined for swearing and docked a point for slow serving in his previous match, ran into trouble with the clock again in the first game of this match, when the British chair umpire, James Keothavong, handed him a time violation.
"I just felt weird," Tsitsipas said. "I thought I was on time. Later, I broke a shoelace. It's very common for me."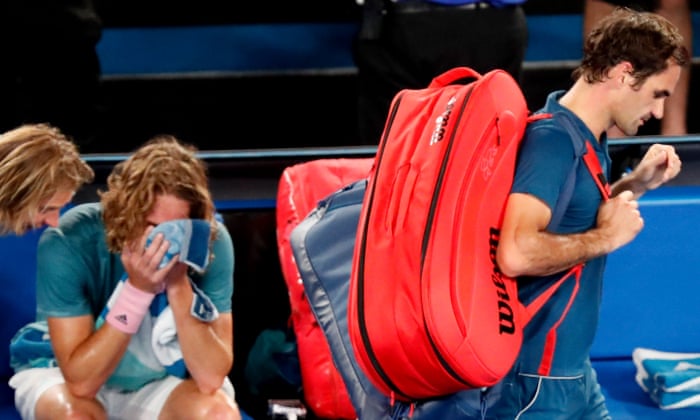 Clearly, he will do things his own way – and maybe philosophise about them on social media, where he is among the most active in the locker room.
Although Federer had reached the first weekend without dropping a set, he has had to fight occasioally, and the energy expended in a tight three-setter with Dan Evans in the second round, where they played two tie-breaks, might have caught up with him. He was in three shootouts here, losing the one that mattered most. He also failed to convert one of 12 break points.
"It definitely didn't go the way I was hoping on the break points," Federer conceded. "I also didn't break him at the Hopman Cup, so clearly something is wrong. He's doing a good job to defend them. It's very frustrating."
After two hours and 40 minutes, Tsitsipas got his first break points, and Federer saved both to level at 4-4, before fading to go 2-1 down. He was struggling in most exchanges – until Tsitsipas called for the trainer after five games of the fourth to check for cramp. A quick massage of the thighs, and he was back in the groove. Federer forced a third tie-break. At 5-5, he faltered, and Tsitsipas ripped a withering forehand to cap the best day of his career.
Earlier, the effervescent Frances Tiafoe celebrated his 21st birthday by dumping the dangerous but inconsistent Grigor Dimitrov out of the tournament in four sets.
The Bulgarian put 21 aces on his younger opponent, but could not crack his indomitable spirit, and said later of Tiafoe, "It's so nice to see somebody new, somebody fresh. Everybody in the locker room likes him, everybody is laughing. He's going to be amazing. He can only get better."
Tiafoe, the son of immigrants who fled war-torn Sierra Leone before he was born, lived for the first 11 years of his life on the premises of the tennis centre outside Washington DC where his father worked – and where he found tennis. He acknowledges the game has changed his life, and that of his family.
"It's crazy, man. The beginning of my career, I was playing for them, trying to do everything for my family. I have put them in a great place. Now I'm trying to do it for me. In March, 2017, I bought a house in Maryland for my mom. My dad is in an apartment in Orlando. I didn't want to go to college. I knew that from a young age. I wanted it and I'm doing it."
He gets to do it again on Tuesday, against Rafael Nadal in the quarter-finals of a slam.
The Spaniard threatened to blow Tomas Berdych away in record time before settling for a grinding finish, to win 6-0, 6-1, 7-6 (4), and said later of Tiafoe, "He has everything. He's quick. He serves well. Very quick forehand. He's a very dynamic player, aggressive, dangerous. He's in the quarter-finals. He has won some great matches. It's going to be a tough one."