The French deputy interior minister has said saving Notre-Dame "is not certain," according to AFP.
It follows a similar announcement from French fire services moments before. They said they are "not sure" if the fire can be stopped.
#BREAKING Saving Notre-Dame «is not certain,» says deputy interior minister

— AFP news agency (@AFP) 15 апреля 2019 г.
Somewhat prophetically, the BBC's Travel programme reported last week on the repairs the church needed and the "massive costs" that were required in order to restore Notre-Dame, before the outbreak of the fire.
Pollution, acid rain and age have taken their toll, the head of the Friends of Notre-Dame charity, Michel Picaud said, pointing out dissolved statues and structurally weakened parts of the 13th Century building.
"Within 10 years" we could see a complete collapse of the iconic monument, he warned.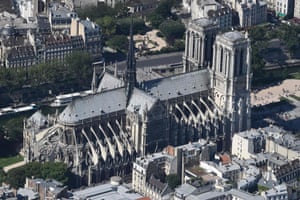 My heart goes out to Paris. Notre Dame is a symbol of our ability as human beings to unite for a higher purpose—to build breathtaking spaces for worship that no one person could have built on their own. I wish France strength and shared purpose as they grieve and rebuild.

— Hillary Clinton (@HillaryClinton) 15 апреля 2019 г.
#NotreDame de la tristesse . La une de @Le_Figaro pic.twitter.com/3z8Ol75O1p

— Alexis Brézet (@abrezet) 15 апреля 2019 г.
A spokesman for the Paris fire department tells Reuters that the next hour and a half is "crucial" in order to see if the fire can be contained.
Hundreds of firefighters are at the scene, with the Paris fire brigade saying they are doing everything they can to bring "the terrible fire" under control.
"All means are being used, except for water-bombing aircrafts which, if used, could lead to the collapse of the entire structure of the cathedral," it tweeted.
Here is the latest photo we have as night begins to fall: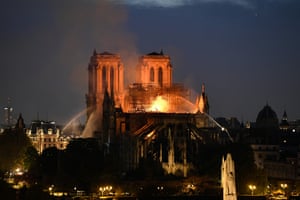 My thoughts are with the people of France tonight and with the emergency services who are fighting the terrible blaze at Notre-Dame cathedral.

— Theresa May (@theresa_may) 15 апреля 2019 г.
Here is more from the the Guardian's correspondents Angelique Christafis and Jon Henley who are speaking to tearful witnesses at the scene gathered on the neighbouring Île St Louis across from the cathedral.
"We are staying just down the street and heard the sirens," says a visibly distressed Fred Phelps, 72, from Sebastopol in Sonoma County, California, who is in Paris on holiday with his wife Diane, 71, and had booked a guided tour of the cathedral and tower for Wednesday.
"It's one of the things I wanted to see before I died," he says. "We saw what was happening and we both welled up. It's terrible, just terrible. And to see the face of the Parisians, and hear the emotion in their voices. We don't understand French, but we understand this. We're both very moved."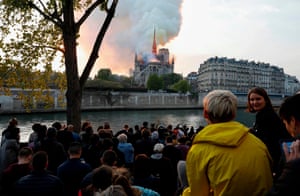 Marie-Anna Ecorchard from Morbihan in Brittant, visiting her children who are working in Paris with her husband Louis, says she was on the Île St Louis on a cafe terrace when she saw the first plumes of smoke rise into the air at about 6.50pm.
"It's dreadful. We've seen people sobbing, tears pouring down their faces. This is part of the heritage of Paris, not just of Paris but of all France. It's just terrible to see such a magnificent building go up in flames. You feel it almost physically."
When the cathedral's spire collapsed soon after 7pm there was "like a huge gasp, a collective cry" from everyone watching, Ecorchard says. "What can you say? Seeing it, just across the river, it's almost like watching a person suffer …"
Alice Lohr, 26, a lawyer from Paris, says she was "immensely sad. This is a great historic monument, part of the beauty of Paris, part of the history of France. It's literature, it's Victor Hugo, musical theatre, the Hunchback – it's just such a big thing in your life.
The cathedral dates back to the 12th century and played a role in Victor Hugo's 1831 novel The Hunchback of Notre-Dame.
"When you are a Parisian and you love Paris, this is like a body-blow," Lohr said. "It's actually quite hard to describe how it feels. Terribly, terribly sad."