From June last year, Dilip Trigunayak would stride out each morning to the banks of the Ganges and will the holy waters to recede. The clock was ticking. In six months, the floodplains where he stood would be the site of the largest human gathering in the world, probably ever.
"I would watch the water levels going up and down," the bureaucrat says. "From then my anxiety started."
More than 120 million Hindu devotees, as well as tourists, are expected to visit the north Indian city of Prayagraj over the next few weeks for the Kumbh Mela, a vast spiritual festival at the point where two sacred rivers, the Ganges and Yamuna, converge.
As the rivers have emptied of monsoon rain in recent months, Indian authorities have swung into action, reclaiming the riverbed and laying the skeleton for a temporary city that at 15 sq miles (39 sq km) is two-thirds the size of Manhattan.
The festival started on Tuesday morning when tens of thousands of Hindu ascetics charged – roaring, naked and ash-smeared – into the water, sanctifying it for the tens of millions of pilgrims who will follow in the
raygraj is said to be one of four sites in India where drops of the essence of immortality were spilled from an urn being fought over by gods and demons. The festival moves between the four locations, with Prayagraj the largest and most lavish. Pilgrims travel from across the country and wait for days for their opportunity to bathe there for a few seconds, including at least 30 million people on the most auspicious day.
"People come here to taste the nectar of immortality," says Sarabhang Giri, an Australian who was ordained a sadhu, or Hindu saint, in 2004.
With an election looming in India, more earthly matters are also under contemplation. For India's Hindu nationalist government, the Kumbh's message of unity across the religion's castes and innumerable deities dovetails nicely with the ruling Bharatiya Janata party's goal of consolidating Hindu votes.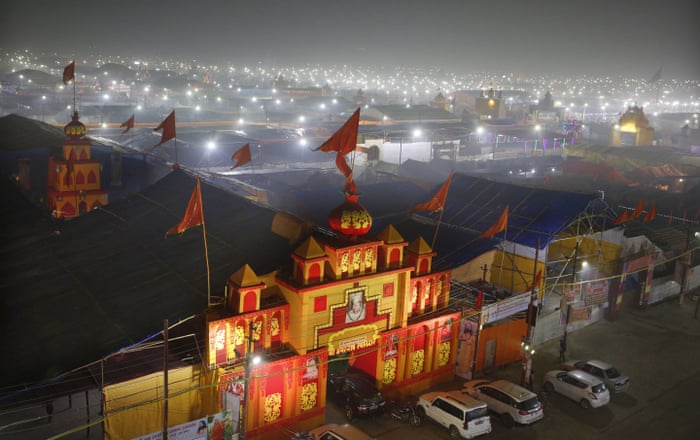 This is the first Kumbh Mela in Prayagraj since the city's Mughal-era name of Allahabad was changed. No Kumbh Mela has ever been so well funded, or so heavily promoted in the media and on billboards, invariably alongside the face of Narendra Modi, India's Hindu nationalist prime minister.
"In many recent Kumbhs there's always been a political presence of some sort," says Kama Maclean, an associate professor of south Asian history at the University of New South Wales. "For most people who go it's a religious event. But from the 1930s people were going to the Kumbh Mela, bathing in the Ganga, and then going up [India's first prime minister] Jawaharlal Nehru's house and learning about nationalism."