Authorities in Indonesia have raised the danger level for the volcano that triggered a tsunami on Saturday, killing hundreds of people, and extended the no-go zone to three miles.
Flights around the Anak Krakakau volcano were rerouted and the crater's status was raised to high alert, the second-highest level. "There is a danger of more eruptions. People [near the volcano] could be hit by hot rocks, pyroclastic flows and thick ash," said national disaster agency spokesman Sutopo Purwo Nugroho.
People are being moved away from Sumur on the island of Java, which was hit hard by the tsunami and was one of the last areas to be accessed by rescue teams.
Aulia Arriani, working with the Indonesian Red Cross, said residents were being moved away from the coast in Sumur: an area in tsunami-hit zone in Java that was one of the last to be accessed by rescue teams.
"The restless mountain is making life unpleasant," said Arriani. "I met a woman today who said having the volcanic ash around was like having chilli rubbed in her eyes."
People have been warned to stay at least 1km (0.6 miles) from the coast in areas affected by Saturday's tsunami, which killed at least 430 people and displaced more than 20,000.
There's still a chance of a landslide, even under the sea level or on the sea level," Rudy Sunendar, head of Indonesia's energy ministry's geology department, told Associated Press. "We don't know exactly because we [have] not yet gone to the field. Based on the satellite imagery interpretation, there is collapse of some areas of Mount Anak Krakatau."
Huge waves hit the west coast of Java island and the south coast of Sumatra on Saturday, created by land shifting under water on the volcano. On Thursday Sutopo urged those in the area to "remain calm and increase awareness" by taking heed of official information sources.
Earlier this week Red Cross Indonesia said that its aid work in Banten province, one of the hardest-hit areas, was affected by people becoming "jittery" due to rumours about further waves hitting. A mosque in the area falsely announced that huge waves were arriving, causing panicking people to flee to higher ground.
Many people with missing family members have been submitting DNA samples to hospitals, to see if they match with those taken from bodies found but not yet identified. Tubagus Cecep, 63, told AFP that he feared for his missing son. "They found a body, a pile of bags and my son's shoes," he said. "I'm still waiting for the body to be identified. We don't know yet if it was him."
Arriani said: "Many thousands of people are still living in neighbours' houses or on higher ground. Some are sleeping in mosques with no windows or doors, so they get cold at night. Yesterday's localised flooding drained, but it's a wait-and-see situation."
Saturday's disaster struck without warning in a country that regularly experiences landslides, earthquakes and volcanic eruptions. No earthquake activity had been felt beforehand, and the waves surged inland at night on a holiday weekend while many people were enjoying concerts and other beach and resort activities.
Radar data from satellites, converted into images, shows the Anak Krakatau volcano shrank dramatically following Saturday's eruption, AP reported.
Satellite photos were not available because of cloud cover but radar images from a Japan Aerospace Exploration Agency satellite, taken before and after the eruption, show much of the volcano's south-western flank had gone.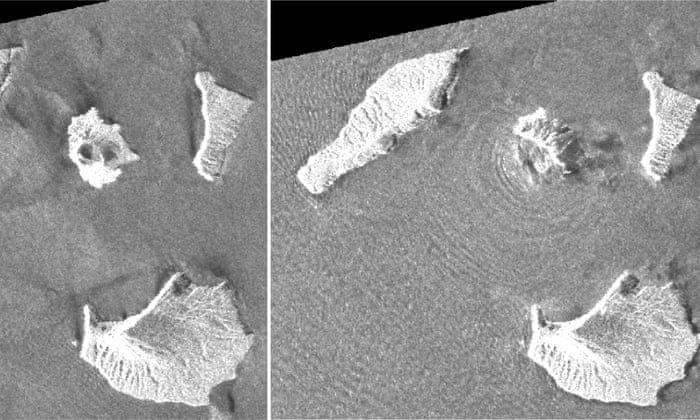 axa's post-eruption image shows concentric waves radiating from the island, which experts say is caused by ongoing eruptions.
Dave Petley, the head of research and innovation at Sheffield University, who analysed similar images from a European Space Agency satellite, said they support the theory that a landslide, most of it undersea, caused the tsunami. "The challenge now is to interpret what might be happening on the volcano, and what might happen next," he wrote in a blog.