nick Meadowcroft-Lunn has a girlfriend, whom he has been seeing for three years. Jezz Palmer has a girlfriend, too, and they have been together for five. You might assume therefore that Nick is straight and Jezz is gay; or, if not, that both must be bisexual. But you would be wrong.I always describe my sexuality as: 'If you've got nice hair and pretty eyes, I'm down for it,'" explains Jezz, a 26-year-old editor working in historical publishing. "It's not that gender doesn't matter, because it can be important, but it's a bit of an afterthought. It's just like: 'Oh, hello.'" For a while, she wasn't sure what to call this, but eight years ago she settled on "pansexual" as the closest word. "It took me a while to figure it out. [The TV series] Torchwood was about the only thing I'd heard of. I was talking about maybe being pansexual and someone said: 'Oh, like Captain Jack in Torchwood.'"
Nick, a 22-year-old physics and philosophy masters student at the University of York, initially thought he was bisexual as a teenager, but also now feels "pansexual" better fits his view that attraction isn't really about gender. "I just find characteristics generally about people attractive. Pan is simply easier to understand, and much closer to the truth for me. It's not specific to any gender." He often explains it, he says, by talking about height: a bi person might find tall guys attractive, and short girls. But he tends to fancy tall people, regardless of whether they are male or female.
Last year, "pansexual" briefly became the online dictionary Merriam-Webster's most searched word of the day after the singer Janelle Monáedefined herself as a pansexual and "queer-ass motherfucker". The Panic at the Disco frontman Brendan Urie and the singer Miley Cyrus both also identify as pan, with Urie explaining that, to him, it means: "I really don't care … If a person is great, then a person is great. I just like good people, if your heart's in the right place." The singer Demi Lovato, meanwhile, identifies as "sexually fluid", or "having a shifting gender preference", while other labels for being neither exclusively straight nor gay include "heteroflexible" and "questioning".
For bisexual activists who have long felt erased from the picture, many of these new identities can sound suspiciously like elaborate ways to avoid the word "bisexual". But Meg-John Barker, psychology lecturer and author of The Psychology of Sex, argues that, while "bisexual" is a useful and widely understood umbrella term for being attracted to more than either gender, labels such as "pansexual" do capture a specific sense that fancying someone isn't just about gender. And if all this seems confusing, the all-purpose "queer" is increasingly used to mean anything other than plain-vanilla 100% straight, a visibly expanding category.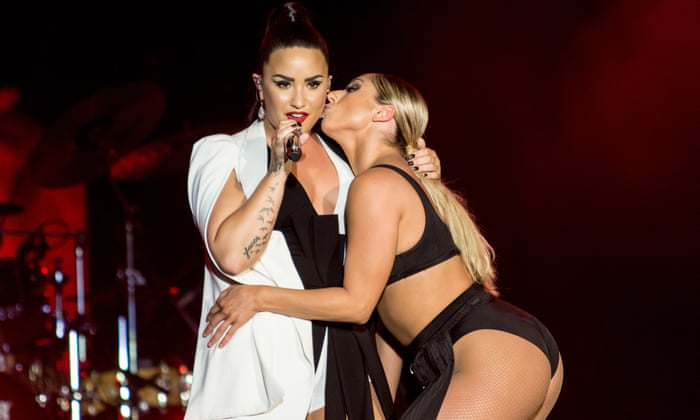 When YouGov asked people to place themselves on a sliding scale where zero equals exclusively straight and six equals exclusively gay, more than a quarter of Britons polled identified as something other than 100% heterosexual. But strikingly, 54% of people aged 18 to 24 did. That arguably makes them the most sexually liberated, least socially repressed group of adults in British history.
Baby boomers saw homosexuality decriminalised, if not destigmatised. Their children grew up with Brookside's celebrated lesbian kiss and the scrapping of Section 28. But it is their grandchildren who have grown up taking the idea of gay rights almost for granted. "The working assumption is that's because we have progressed as a society in the last 30 years. We've become much more accepting and that's allowed people to explore their sexuality," says Paul Twycock of the LGBT rights group Stonewall.
And yet, for all that, heterosexuality is hardly dead yet. According to the Office for National Statistics, 93.2% of Britons still call themselves heterosexual, although that figure is down slightly from 94.4% in 2012. So how did YouGov get its headline-grabbing figures? It changed the question, which turns out to change the answer significantly.
It is well over half a century since Alfred Kinsey, who was himself bisexual, published his conclusion: "Males do not represent two discrete populations, heterosexual and homosexual … The world is not to be divided into sheep and goats." His successors are still arguing over whether the godfather of research into human sexuality was broadly right to describe it as a sliding scale with numerous stopping points along the way, or whether that is overly simplistic. But in popularising the idea that same-sex attraction was far more common than acknowledged, Kinsey's work was a landmark moment for gay rights nonetheless.
When YouGov asked its respondents whether they were straight, gay, bisexual or something else, 89% identified as heterosexual and 6% as gay. But when asked to place themselves on the Kinsey scale, that fell to 72% straight and 4% gay. The more choices people are given, the more shades of grey they acknowledge. But does that mean heterosexuality is genuinely rarer than we think, or is sexuality more multifaceted than was previously accepted?
According to one US study, half of male college students and eight out of 10 female ones have fantasised about someone of the same sex. (Evidence is divided on whether women are more sexually fluid than men or just more willing to admit it.) More than a quarter of British 25- to 39-year-olds told YouGov they had had some kind of same-sex experience. But Generation Z are not necessarily having more adventurous sex than anyone else; they are more inclined to what might be called a "never say never" approach, with a quarter of those identifying as straight saying they couldn't rule out a gay relationship if the right person came along.
"This suggests that being attracted to more than one gender is becoming a majority, not a minority, position," says Barker. "But wider culture is taking a long time to catch up to that fact, still tending to assume that people are either straight or gay, and presenting non-binary attraction as confused, a phase, or somehow suspicious." The gradual easing of those assumptions, however, has implications for more than one generation.
Andrea Hewitt has known since her schooldays that she was attracted to girls. But growing up in the US south in the 1970s, she didn't dare think too hard about what that meant. "I didn't really know any gay people until I was an adult. I didn't understand a lot of the feelings I was having, so I put them on a shelf," she recalls. "It just wasn't an option. Nobody spoke of it."
So, she duly got married and had two children; when that marriage broke down, she married again. It was only after her older daughter left for college that she finally plucked up courage to come out as lesbian and ask for a divorce.
Hewitt's children and her wider family were supportive, but it was, she says, an isolating time. "I Googled 'coming out', but it was all geared towards teenagers coming out to their parents, and here I was a 40-year-old woman with two kids. I truly thought I was the only person who had ever done this." It was only when she started her blog, A Late Life Lesbian Story, that she realised she was very far from alone.